"

An endemic Wyoming treasure."
— Rita Basom, Wyoming Arts Council 
"Onstage, dressed in what might be called 'cowboy carny' (denim, buckle boots, and a bowler hat,) he is a bundle of loose-limbed energy, a lovable bad boy who alternates love songs with knockdown banjo tunes about towns known for nothing more than 'hard luck, bad blood, bullshit, and beer'."
- Michael Segell, New York Times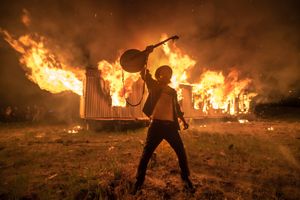 "It's not hard to see the significance of (Bob Dylan, Tom Waits and Steve Earle) in his work. His singing voice isn't all that different from Dylan and Waits' raspy vocals – sounding like he's smoked at least a few cartons of cigarettes in his life. And lyrically, he embodies all three men, from Earle's outlaw country persona to Dylan and Waits' storytelling skill."    
-Ellen Fike, Wyoming Tribune Eagle
Jalan Crossland is nationally acclaimed by audiences, critics, and his musical peers as being a premier acoustic guitarist, banjo player, singer-songwriter, and engaging showman. Along with dozens of regional contest awards, his extraordinary guitar work earned him National Fingerstyle Guitar Championship Runner Up honors in '97 and the State Flatpick Championship title of his home state in 1999. His 2017 album, "Singalongs For The Apocalypse", won Wyoming Public Radio's People's Choice - Album Of The Year award. In recognition for his contribution to the arts in Wyoming, he was bestowed the Governor's Arts Award in 2013.
"To pin any one label on Crossland's body of work would be a crime. It's not country. It's not rock. It sure as hell ain't your daddy's bluegrass! His characters and stories come alive to form an often dark, yet highly humorous interpretation of the American Experience.    
- Marcus Huff, Laramie Zine
Jalan has opened for, or shared concert stages with, Robert Earl Keen, Nitty Gritty Dirt Band, Taj Majal, Shovels & Rope, Shakey Graves, The Ozark Mountain Daredevils, Steve Earl, Ray Wiley Hubbard, The Grand Teton Symphony, Earl Scruggs, John Hartford, Charlie Daniels, Corb Lund & The Hurtin' Albertans, Ballet Wyoming (playing, not dancing), The Young Dubliners, Reckless Kelly, Mike Gordon (Phish), Sam Bush, Leon Redbone, Big Head Todd & The Monsters, John McEwen (Dirt Band), Marty Stewart, Peter Rowan, Michael Martin Murphy, Norman Blake, and more. 
"If you're lucky enough to hear Jalan play, observe the audience.  
It will be made almost entirely of drop-jawed, glassy-eyed, altogether astonished listeners."  
- PANACHE MAGAZINE, Rapid City, SD
Songs about drinkin, fightin, hobos, roughnecks, trailer park fires, oil-patch strippers, and little neighborhood dogs that bite, are lent their truth-is-stranger-than-fiction wobble by virtue of the fact that Jalan was raised and resides in a rural Wyoming mountain town, population 200, give or take. 
"He casts a sardonic but affectionate eye on the roughhewn lives of Western people. Crossland's 'Big Horn Mountain Blues' is so popular in Wyoming that it is practically the official state song."
Michael Segell, New York Times

Jalan has performed for Antelope Butte Festival, BMI Songwriters Festival Key West & New Orleans, Beartrap Music Festival, Evanston Bluegrass Festival, Big Horn Mountain Festival, Big West Arts Fest, Deadwood Jam, Donkey Creek Music Festival, French Quarter Festival, Gibson Guitars, Grand Targhee Bluegrass Festival, Grand Teton Music Festival, John Hartford Festival, Longmire Days, Mansface Mountain Music Festival, Meadowgrass, NIC Fest, New West Fest Bohemian Nights, Nowoodstock, Oyster Ridge Music Festival, Peaceful Bend Festival, Porcupine Mountains Music Festival, Sioux River Folk Festival, Snowy Range Music Festival, Unvarnished Music Fest, Walnut Valley Festival, WHATFest, and more. 
"Listen close, all of that sound is coming from one guitar!"
-Nikki Sixx , MOTLEY CRUE
"…always able to fuse great storytelling with an affable but highly skilled playing style." 
–Josh Rhoten, CHEYENNE TRIBUNE EAGLE 
"A resounding, 'Well done!'" 
-FINGERSTYLE GUITAR MAGAZINE 
"…A great impact on the music scene in Wyoming" 
– Grady Kirkpatrick, WYOMING PUBLIC RADIO 
"A wonderful performance! Jalan Crossland was killer. He played things that I wish I knew how to play!"
-John McEwen, NITTY GRITTY DIRT BAND 
"…so fluid and articulate that the most seasoned players will be amazed and inspired. Adding vibrant vocals to his commanding guitar style, he is truly a singular talent." 
– Barb Evanson, DAHL FINE ARTS CENTER, Rapid City SD 
"I love it when you play the banjo! You remind me of those bears at Disney Land!" 
-Innominate Old Lady 
"Extraordinary talent in crafting wonderful songs that have been loved by many and performed by numerous artists across the nation." 
-Paul Jarvis, BIG HORN MT FESTIVAL, Buffalo WY 
"One of the finest guitarists in America" 
-Spencer Bohren  
"More than just a great picker, Crossland's performances feature graceful delivery and genuine character" 
– PLANET JACKSON HOLE, Jackson WY 
"Mixes raw talent and obvious practice with passion, whimsy, and a feel for what people want to see and hear." 
-THE EAR, Park City UT 
"A grand experimenter." 
-Northern WY Daily News
"I don't even know that guy, and I don't use a George Forman Grill!"  
-Taj Mahal 

"One of the region's most sought-after acts. He's a workhorse and an experimenter."
-Buckrail, Jackson Hole